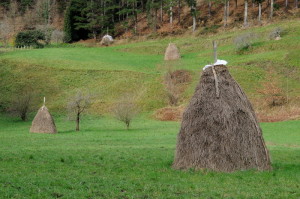 The following songs are sung during Marijesiak celebrations, which coincide in time with the popular Christmas time songs performed in the streets of every village throughout the Basque Country (generally known as Noelak within the oral literature tradition of the French Basque Country).
The Marijesiak tradition started as a pre-Christmas novena to explain episodes from the sacred history in the form of chants (from the times of Adam and Eve to the birth of Jesus, the Annunciation to the Blessed Virgin Mary, the visit of the Three Wise Men, and so on). According to Manuel Lekuona, this type of song bears relation to monastic life and the social and cultural influence of monks in those days; as a matter of fact, a great number of villages counted with a monastery.
What was a well-established tradition is now most renowned and deep-rooted in Gernika, where young lads continue to perform Marijesiak chants year after year. There exist more pieces of evidence of such songs in Bizkaia (in Arratia and Zeberio, in Busturia and surroundings, in the municipality of Markina and the Lea-Artibai valley…), but the custom seems to be fading away.
The Marijesiak round exit has a set route. The village boys and girls (in the past only the boys used to participate) meet in the atrium of the church in the early hours of the morning and kneel down before the start of the march. A soloist advances the group at all times. As he sings a stanza, the group responds. The singing never stops as they walk.
The text and the melody change as Christmas Eve comes closer. Nowadays, several stops have also been added in the way in honour of those who died in the bombing of Gernika. The marching of soloist and chorus men and women finish at dawn, and the ritual is repeated daily for nine nights in a row.
The last round is performed the morning of Christmas Eve. On that day a special mass service is held with the participation of all the marchers.
Gabonak dira eta is a Marijesiak song gathered in the area of Gernika, and Nazaretako tenplu santuan is a composition containing pieces sung in the Markina area and the municipality of Zeberio.