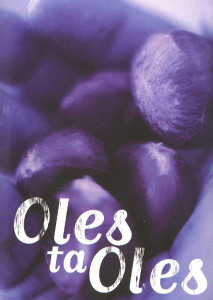 The publishing of this collection of songs under the title Urte-sasoiak reveals the ever-present tight connection in Euskal Herria between the traditional seasons of the year and a set of customs that still are very much alive.
The winter season has been chosen to give a start to the collection. Midwinter musical expressions have traditionally, in our culture in particular and in the Western world in general, been prolific. For that reason, this first volume is dedicated to the distinct and special celebrations that take place during the festivities of the whole of the Christmas period, before and after the New Year.
Oles ta Oles are the opening words of verses sung by wassailers in their rounds on New Year's Day and other well-known occasions throughout the year. The Basque word oles has, nevertheless, been consigned to oblivion. In the olden times, it was customarily used as a greeting formula and conveyed a great sense of respect and corteous regard. Nowadays it is hardly heard except in house-visiting verse singing. That is why the expressions oles egitea or oles ta oles ibiltzea have acquired the meaning of door-to-door and neighbourhood-to-neighbourhood wassailing, performing old popular stanzas and asking for alms.