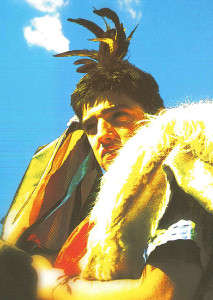 Carnival is the main and most deeply-rooted celebration of the Carnival cycle, and it follows the above-mentioned pre-Carnival festivities. Depending on the location, the feast is referred to as Ihoteak, Aratusteak, Zanpantzar, Karnabal…
Carnival does not have a set date in the calendar. It depends on the moon phases.
The Sunday after the first full moon of springtime is Easter Sunday. Counting seven Sundays or 50 days backwards from that day, it is the Sunday before Shrove Tuesday, Igande-inaute, and the rest of the Carnival holydays fall on neighbouring days.
Once upon a time, and according to the lunar calendar, the year used to start in spring. The vernal equinox is indeed a significant time of the year, because around it days and nights are of equal length. In the past Carnival must have been the welcoming of the new year. Later, the introduction of the solar calendar changed the date of the beginning of the year, but many of the ancient rituals were maintained.