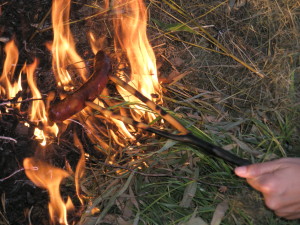 The customs and festivities mentioned up to now occur on fixed days and are regulated by the solar calendar.
Carnival does not appear to relate to the above-mentioned celebrations (let us remember that the Carnival period is established by the lunar calendar). However, events that take place close in time, popular traditions in particular, tend to present mixed features.
In fact, the feast of Saint Agatha does bear some kind of connection with carnivalization: the impotant role played by the youth, the acceptance of law-breaking, the use of masks or other articles and garments in some localities…
As we already explained, the Carnival season is determined by Easter Sunday, Pazko-eguna, and Ash Wednesday, Hausterre. Ash Wednesday, as the name indicates, always falls on a Wednesday, and Ash Wednesday eve is Shrove Tuesday, Astearte-inautea, the main Carnival day. Nevertheless, Shrove Monday, Astelehen-inautea, and Shrove Monday eve, Igande-inautea, have also carried significant weight.
Apart from acts on the principal Carnival days, there are other customs, though they feature less strongly. In Bizkaia, for instance, a local custom has been preserved on the Sunday previous to Shrove Monday eve. On this day children, young people and adults go in groups on a little outing to the woods or mountains in the village. The occasion is named Basaratoste. A place to settle down is chosen, branches and logs are collected, and a nice fire is lit. Sausages and pork meat are speared in sticks and barbequed. The barbeque itself is called txitxiburruntzi. In some places the barbeque is held on the Thursday before Shrove Tuesday.
The Thursday before Shrove Tuesday is generally known as Eguen Zuri. It used to be an exceptional day for children above all. In some areas of Nafarroa, namely in Baztan and neighbouring communities, the feast ran during three consecutive Thursdays.
A fortnight before the Thursday preceding Shrove Tuesday, Gizakunde, women presented the men with a gift, and young girls were also allowed to ask young boys to be treated to some kind of reward (the girl would hold the boy by the shoulder and ask him what he offered her, Zer agintzen didazu?).
The following Thursday was Emakunde or Andrakunde. Women performed a special dance with their husbands, and young girls received presents and danced with a partner of their choice.
Orakunde was celebrated a week after. As the name suggests, it was a day devoted to every villager, but children played the leading part. In many villages of Nafarroa, children would come out to the street wearing the masks and garments that adults meant to put on during the following days. Likewise, the Oilar-jokoa or cock game was held on this day.