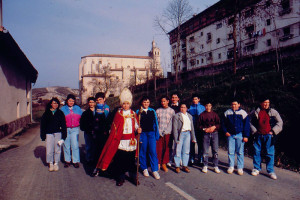 This song used to be performed on 6 December, Saint Nicholas' Day, by the children of Oiartzun and surroundings.
In the olden times, on the feast of Saint Nicholas of Bari, and similarly to what happens at Carnival time, young boys from different parish associations would dress in bishop clothing and collect money door to door. From that it turned into a ritual carried out by school-aged children.
As it seems, this custom was widely observed, particularly in the southern regions of Euskal Herria. Nevertheless, it has only survived in some areas of Gipuzkoa, Araba and Nafarroa.

San Nikolas
Oiartzun (Gipuzkoa)