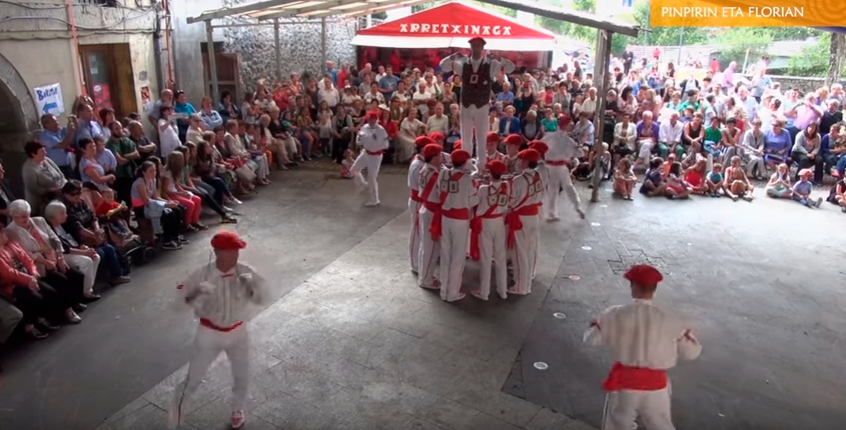 Traditional dances are an essential part of our culture and testimony of our character and personality. Each region maintains its own dances. In Markina-Xemein, for instance, two dances are performed on 29 September, the Feast of St Michael: the Xemein sword dance and the Mahaiganekoa dance.
We are at the hermitage of Arretxinaga. The bells toll at eleven in the morning to announce the beginning of the mass in honour of the patron saint.
It is a special hermitage. A peculiar monument made of three stones supporting one another stands in its interior. The controversial provenance of the stones has never been determined. The image of the saint stands right in the middle. It is said that those who are looking for a partner should make three turns around the stones walking through the space between them.
After mass we have the opportunity to enjoy the Xemein sword dance. The Ezpata-dantza or sword dance is a ceremonial dance executed on special occasions. In the olden days it was danced on the Feast of the Corpus Christi.
The dancers leave the old town hall and come into the square. The number of dancers is variable. Nowadays fifteen dancers take part: the captain or maisu-zarra, four dancers with short swords and ten dancers with long swords.
They dress in red and white and wear scapulars of Saint Michael the Archangel and the Xemein coat of arms. A brown flowered waistcoat distinguishes the captain from the rest.
The dancers shape a singular image as they raise the captain upon their swords. Now he and the short sword bearers come into the limelight. This part of the dance is its main feature.
A second round of dancing takes place at midnight. A dance known as Mahaiganekoa is executed on a table. The old town hall square is filled with people impatiently awaiting the arrival of the Zerutxu dance group. The txistu player cues the entrance of the male dancers to the square.
They perform the Aurresku soloist dance and the Soka-dantza chain dance and invite women to join in.
The Mahaiganekoa table dance follows. A table, a seat, a jar of wine, a glass and a lantern are arranged in the middle of the square. The dancers, men and women this time, walk around the hermitage before taking to the square. Him who plays the role of the mayor leads the group. He wears a cape and holds a burning ember.
Back in the square, and guided by the sound of the txistu, one of the dancers stands on the table and drinks a glass of wine. The members of the group sing the tune of Horra hor goiko while he dances.
A second dancer climbs to the table and both men dance together. Next the second dancer drinks a glass of wine and continues dancing.
All male dancers stand on the table and dance in turns. A popular chain dance called Biribilketa brings the performance to a close.