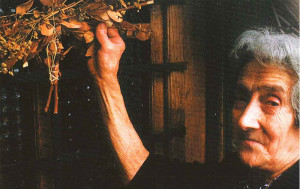 The festival starts on the eve. At one o'clock in the afternoon, the church bells ring and a band of txistu players parade through the streets. At around eight o'clock in the evening the mayor joins the group in their way to Saint John's church to pray the rosary.
Beginning at ten at night and until midnight, the villagers dance to the sound of the txistu, then the boys place the poplar trunk, chosen and cut down beforehand, in front of Saint John's church and next to the bandstand. Meanwhile fellow boys decorate girls' balconies with bunches of flowers. At around four o'clock in the morning, they drink hot chocolate and head for La Nevera Peak to watch the Sun dance.
The following day the txistu players march through the streets at six o'clock to the beat of the San Juan martxa tune. At seven the mayor, the councillors and the priest set off to Arrizala riding horses. On arriving at the neighbouring village, the girls welcome them singing verses and playing large tambourines.
Up until the 1980s, they used to place an arch decorated with flowers and ivy at the entrance to the village, and the cohort passed under it.
After the singing they all go to church to hear mass. Later the txistu players perform the Sanjuanada tune in the portico of the church, and the congregation enjoys some sweet wine and biscuits. On their way back to Agurain the party walks through the centre of the village and the villagers present the mayor and the councillors with flowers. Farewell verses are sung to them before they finally leave for Agurain.
Back in Agurain a music band and a huge crowd holding Saint John's bunches wait for their arrival. All take part in a parade, and the authorities are once again offered flowers. The local authorities, the priest and a group of guests have some hot chocolate in the townhouse. In the afternoon a popular meal is organized. People take their own food, and the council provides the wine. In the olden times the Soka-dantza dance was performed and bulls were let loose.

San Juan Agurainen
Agurain (Araba)